Towel Warmers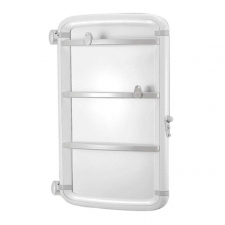 Description:
Electric towel warmers can be installed very easily in the bathroom and apart from warming and drying towels they can also provide very quickly the necessary heat for a cosy and warm environment.
Our Radialight (ACANTO & HELISEA models) towel-warming radiators feature a unique dual heating surface. Heat is diffused in every direction to warm twice the number of towels or to dry damp underwear. A simple movement turns the heater on its wall support. The high-precision, reliable electronic thermostat helps maintain the perfect temperature in the bathroom while the timer allows the selection of 4 operating times and modes:
1 to warm towels
2 to warm heavy towels and bathrobes
3 to dry damp towels
4 to dry very damp towels
Typical Specifications:
Power input: 450W
Ideal for bathrooms up to: 6 m2
Electrical insulation - waterproofed to: IP X4
Towel racks: 6 (3+3)
High-precision electronic thermostat + 4 position timer (15'-30'-60'-120')
Size in cm: 101 x 52 x 16.5 (maximum distance from wall after installation)
Available colours: White and Aluminium
Robe hooks: 2
Rotation: 180°
Radialight towel warmers heats at a much greater speed with respect to other competing products. This is due to their radiant heating effect, which is more immediate and which reaches higher temperatures than the traditional towel warmers.
<< back