Electric Storage Heaters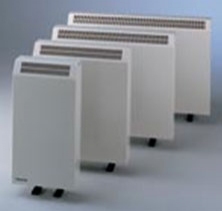 Description:
Electric storage heaters through the use of low tarrif off-peak electricity, provide heating when and where its needed very efficiently and economically. Whether they are used in new or renovated homes and flats they can be installed very fast with low costs as there is no need for serious installation work, flue modernisation or expensive pipework. Furthermore with their intelligent control technology and the option of integrating modern ventilation systems, the classical storage heater has become a modern energy manager.
Our Olsberg electric storage heaters are manufactured in Germany to the highest standards for long term-trouble free operation and they are divided in the Static and Dynamic models. A brief description of each type is outlined below.
ASTRAL - Static Storage Heaters
Static storage heaters work without fans, emitting their heat only via natural convection from the heater surfaces. Their attractive design means that the ASTRAL storage heaters blend harmoniously into the house décor and are offered in different housing sizes and performance ratings thus satisfying every heat requirement.
Operating knobs hidden behind a cover plate help give the heater its attractive and elegant design. Operation is, however, clear and simple. The ASTRAL operation is clear and have a highly efficient bimetal discharge regulator and a high-quality capillary-tube charge regulator for an exact charge and discharge according to requirements.
They are very easy to install and the special convection chamber with its integral warm air outlet is structured across the total width of the storage core. This allows for an even discharge of the core to take place. The high-quality Chrome-Nickel heating elements can be tilted forwards to facilitate the insertion of the core bricks.

The main ASTRAL Static Storage Heater characteristics are:
super-slim cabinet-compact heater dimensions
elegant, attractive design
galvanised steel cabinet in two-colour stove-enamelling for long life and easy care of the heater surfaces.
efficient Microtherm G, Vermiculite and mineral wool insulation
high-quality Feolite storage core
robust cabinet construction with separate one-piece inner housing, Patent pending
high-efficiency bimetal discharge regulator
high-quality capillary-tube charge regulator for an exact charge and discharge according to requirements
high-quality bimetal safety thermostat
Astral - Dynamic Storage Heaters
Dynamic storage heaters discharge their heat via the heater surface and by means of a factory-fitted fan. The fans is controlled by a room thermostat and thus provides the exact room temperature desired. An air-mixing system - bimetalically regulated - provides continuous low-temperature outlet air, regardless of the state of heater charge and thus the core temperature.
All Olsberg heaters can be connected to an Olsberg US 4, ZG 5 or WS 4 central automatic charge control, thus providing an especially economic operation. This allows a continuous fully-automatic heater charge according to heating requirements, also taking the outside temperature and the residual heat in the appliance into account.

The clear, no-nonsense design characterises the Olsberg style and fits into any room decor - no matter whether in existing or new buildings. The high-tech generation of Olsberg storage heaters stand out by means of their intelligent technology - and highest quality.
<< back