Gas Wall Hung Boilers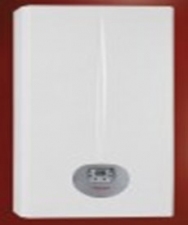 Description:
Gas wall hung boilers are fully automatic complete systems which provide heat output for central heating and instantaneous production of domestic hot water. The water is heated by means of gas and the hot water produced is circulated by an in-built circulating pump.
Thanks to their compact size, as little as 25cm deep, they offer numerous installation advantages in all types of locations.
Our Immergas wall hung boilers are manufactured in Italy where they are the market leader. Furthermore they are distributed in 40 other countries worldwide with great success. This is due to their advance technology, very high energy efficiency and unbeatable value-for-money.
Some of the main Immergas advantages are:
FAST PRODUCTION OF DOMESTIC HOT WATER
The rapid bithermal heat exchanger quickly delivers domestic hot water at the desired temperature.
ELECTRONIC MODULATION WITH DIGITAL TECHNOLOGY
The electronic burner modulation guarantees perfect control of the heating system temperature and of the domestic hot water while simultaneously saving energy and enhancing comfort.
The digital controls and the display are easy to use for managing the boiler.
Handy buttons are used to precisely control the temperature and other functioning parameters. The display includes symbols and codes which indicate the functioning mode and possible faults.
IPX4D ELECTRIC PROTECTION
Ensures correct operation even in the presence of splashing water or high humidity.
The automatic by-pass is a standard feature of the boiler and this allows its use with any type of heating system.
<< back