Electric Wall Hung Boilers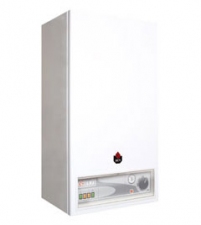 Description:
Electric wall hung boilers are fully automatic complete systems which provide hot water for central heating purposes. The water is heated by means of an electric heating element and then it is circulated by an in-built circulating pump. A heat exchanger also generates domestic hot water on demand and an optional kit allows the boiler to be connected to a second circuit.
A summary of the main features of our ACV electric wall hung boilers are listed below:
Available in many models with power ranging from 5 KW - 100 KW, all with adjustable power.
For floor heating circuits the water flow temperature can be limited to the desired level.
Ready to install and delivered with expansion vessel (10 litres), manothermometer, safety valve, low water pressure switch, pump, automatic air vent.
Heating body made of welded steel and replaceable Incoloy heating elements.
Power modulation depending on the needs
Control circuit protected by a magneto-thermal circuit breaker
Pre wired for DHW priority control
<< back