Electric Radiators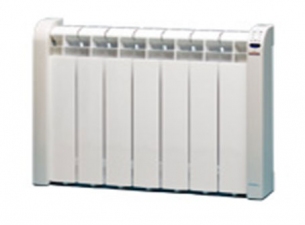 Description:
Our ACESOL electric radiator heating systems are designed to help the user employ electrical energy rationally and responsibly, thus optimising maximum performance with minimum consumption.
All Acesol radiators are distinguished for their safety, high performance, very low energy consumption, attractive design and user friendliness. They are completely healthy and environment friendly.
Based on the principle that technology is there to serve the user, the Acesol thermal radiators combine the highest levels of technological achievement with ergonomics and proven user-friendliness, by utilizing the qualities of their individual components to ensure maximum performance.
Each and every Acesol electric radiator has the following advantages:
Ease of mind
An Acesol electric radiator does not dry up the atmosphere nor does it consume oxygen. It does not cause varying temperature differences. Complete uniformity in the emission and distribution of the heat. It is odourless and does not produce waste, gases or smoke. It does not stain the walls. Its special, highly thermally inert fluid, SolAzul, is completely harmless to humans. It is recommended by allergy specialists for all those people who suffer from respiratory-type problems, such as allergies, asthma and silicosis.
Handling
Easy and simple to handle without any complications.
By means of only three keys, the user can access the numerous range control and programming options. Its special ergonomic design has been developed so as to make it more accessible to the elderly, or for those with physical handicaps, while at the same time being less accessible to youngest members of the family.
Safety
Endowed with great safety, it comes with a unique internal radiator condition management system, designed to ensure that the radiator is constantly working under optimal performance and safety conditions.
Moreover, Acesol radiators are subject to the most advanced and rigorous quality controls.
They do not burn on touch and are endowed with maximum safety features, thus completely avoiding the risk of burns, or the occurrence of any other accident in the home.
Environment friendly
The system is environment friendly as it does not pollute the air, cause any harm to the environment, produce any odours, or emit any type of gas or smoke.
It only consumes exactly what is needed at any given moment, thus making a rational use of the cleanest energy source, electricity.
Economic
The Acesol radiator is a low energy consumption system as a result of the innovative technology implemented in its design and manufacture.
The combination of all of its elements means that the radiator does not need much electrical power to quickly reach the desired temperature. Indeed, it can reach the 80º C mark in a few minutes, needing about 30% - 40 % less power than other electric heaters.
With a performance level approximately 50% better than other continuous use heating systems, i.e. 10 hours to 12 hours operation, its consumption does not exceed 5 hours to 6 hours, while maintaining its performance and comfort level at all times.
Simplicity
Quick and easy to fit, without the need for any brickwork, the radiator is mechanically secured to the wall by means of specially designed brackets. In a matter of 2 or 3 hours the heating system will be fully installed to cover the whole house.
There is no need for any brickwork, piping, chimneys, floor tiling etc. Its maintenance free, with neither tanks nor boilers needed.
Technology & Design
The Acesol unique and patented technology has been developed after many years of experience in air and liquid heat transfer systems . It is constantly renewing its shapes and forms and adapting them to modern trends. By introducing smooth and elliptical shapes, sober and bright colours that enable us to customise the radiator to the taste of each customer, heating has come to play an important role in the choice of domestic appliances
<< back