Electric Convectors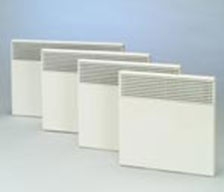 Description:
Due to the fact that individual heating demands differ greatly, direct heating systems such as electric heating convectors, help to avoid the need to ramp-up the entire heating system just because the ambience is lacking a few degrees in a single location. Without involving great effort and expense, they cover the additional heating demand just where it is needed, such as to create a pleasantly warm bathroom or to heat a cellar room that is only used once in a while: These units provide cosy heat right from the start.

Our CORONA convectors provide a natural convection in the room. Cool room air is guided in to the heater from below, heated by special aluminium winged heating elements and distributed evenly back to the room by the laminated air-outlet grille.

Corona convectors are supplied as plug-in, wall-mounted appliances and can be very easily installed by means of the wall-mounting bracket. They are available in graduated ratings from 0.5 - 0.75 - 1.0 - 1.25 - 1.5 - 1.75 - 2.0 and 2.5 kW.
The temperature control is by means of an electronic thermostat with an accuracy of 1/10 of a degree. This is achieved by means of an impulse control which switches the heater element according to the difference between the actual and the set temperature. A night-time set-back switch allows the temperature to be automatically reduced by 4 °C when required.
The specially formed aluminium winged heating elements with a heat-exchange surface that is 3 times larger than the area of conventional heating elements, allow a 4 - 5 times quicker heat dissipation into the room.

These heating elements allow absolutely noiseless heating without the disturbing cracking sounds of conventional elements. This is because they are cast in one piece and held flexibly in place by plastic brackets.
<< back