Hot Water Cylinders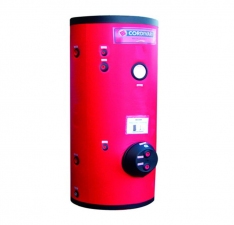 Description:
Our CORDIVARI hot water cylinders are made from top quality components and are used for the production and storage of sanitary hot water for domestic and industrial uses ranging from 200L - 5000L.
Their main features are:
Insulation
Soft PU foam 50mm thickness. Thermal conducivity: 0.038 W/mK.
External Lining
SCAI red Ral 3000 complete with black and flange cover
Warranty
5 years for Stainless Steel 316 L
5 years for Polywarm coating
3 years for organic enameling
Heat exchanger
Curved Stainless Steel or Copper heat exchanger
Cathode protection
Magnesium anode with Anodentester which allows
to check easily the real consumption of the magnesium bar (Electronical anode on demand - only for Polywarm or Organic enameling)
Gasket - Flange Plate
EPDM basket (dielectric GGE) for max. temp up to 99° C. Flange cover made with coated steel
<< back