Instant Gas Water Heaters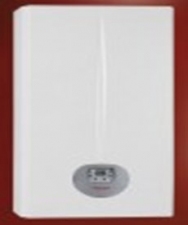 Description:
Hot water flow rate (l/min) - 11,5
Battery run
Description:
Instant gas water heaters offer an alternative and economical way of heating water by using gas. Instant gas water heaters can give flow rates between 11 - 14 litres of hot water per minute, enough to cover all domestic needs.
Our JULIUS Star instantaneous gas water heaters are the oldest members of our gas water heating family. They are equipped with battery-run electronic ignition and a unique modulating gas valve. This high-tech gas valve stands out for its extreme sensitivity and for gas flow adjustment proportionate to the domestic hot water flow.

JULIUS Star water heaters feature a copper heat exchanger with wet combustion chamber, allowing maximum exploitation of the heat supplied by the burner.
Their advantages can be summarized as follows:
COMPACT SIZE AND ELEGANT DESIGN
The compact size eases installation and the elegant design allows the water heaters to blend into any environment.
Allows gas consumption proportioned to the amount of domestic hot water required by the user.
HEAT EXCHANGER WITH WET COMBUSTION CHAMBER
Copper made and protected with a anti-corrosive alloy, it allows maximum exploitation of the heat supplied by the burner.
In the event of low flue draught, this safety device interrupts the power supply to the ignition control unit, thereby stopping burner operation.
<< back