Split Unit Air Conditioners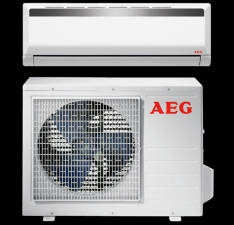 Description:
Split unit air conditioners comprise of an internal device and an external unit for the individual air-conditioning of single rooms. The different versions of the internal unit offer many options for air-conditioning the most diverse rooms and are available as wall mounted versions as well as cassette units for integration into ceilings. The units are further differentiated in accordance with their range of functions.
Our AEG split unit air conditioners comprise of an internal inverter device, matching external unit and a remote control. The wall mounted devices with inverter excel through their special adaptability. After entering the required temperature, the devices quickly adapt to the modified conditions. Compared with conventional air conditioning units, these devices reach their new temperature level faster and maintain it with greater accuracy. The temperature is maintained constantly at the reduced level, practically independent of external influences. Even at maximum cooling capacity, the ambient climate will feel perfectly natural. On colder days it can also switch over to provide heating. That way it bridges short cold spells without requiring the central heating system to be ramped up. The inverter is rated energy efficiency category A. Compared to conventional systems, it uses 40% less energy.
<< back