Solar Control Systems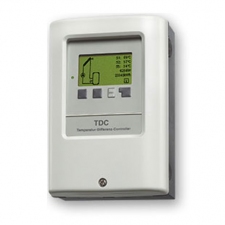 Description:
Our SOREL heating controllers are manufactured in Germany and are considered among the best in the world. Besides the practicality and ergonomic design, they distinguish themselves mainly by the crystal clear operator guidance.

According to the application and the required function, different types of controllers are available in different price categories:
2-6 Pt1000 temperature probes
1-3 relay outputs
Pump output with speed control with electronic for smooth engine running
Heat quantity count
Options for enhancement
A clearly written illuminated display with comprehensive full text and graphic mode is used without any confusing abbreviations. The display can be read in an efficient way - thanks to its inclination.
The self-explanatory operation with 4 input keys as soft keys allows the clear assignment of different functions. The instructions are entered with the keys as text or symbols.
The housing offers different options of assembly such as wall assembly, integration to a pump group or mounting to a switch panel. Types up to protection class IP 54 are available.
The electrical equipment is located in the upper part of the housing, it is plugged on to the clamp-connection and can be easily separated. The terminal clamps of the reliable cage clamp technique are firmly integrated into the lower part of the housing. All cables can be provided with strain relieve in the wide clamp room.

According to the type of device, different options for enhancement are provided:
USB or RS485 interface
0...10V or 4...20mA interface
Ethernet interface for network and Internet connection
MMC data memory card
Probes of radio engineering
Additional relay for alarm notification
The devices are available in custom-made type and in different languages. Further types of devices such as controllers for heating circuit, heat pumps and boilers can be delivered upon request.
<< back