Solar Boilers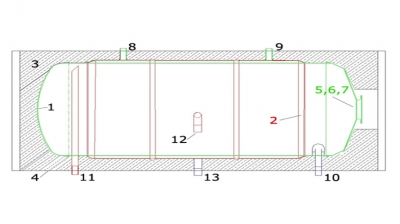 Description:
Our solar boilers combine the most advanced technology with traditional heating methods and incorporate state-of-the-art engineering, rugged construction and select materials resulting in durable, efficient products. Our wide selection of solar boilers are environmentally friendly and energy efficient. Available in a range of sizes from 30 to 300 liters. The horizontal or vertical orientation enable flexible installation to fit changing customer needs.
The standard specifications of our solar boilers are as follows:
The main hot water tank is cylindric, horizontally installed and made of 2,5mm steel (DIN 1623 DCP 1203). Both the left and right covers are made of 3,00mm steel(DIN 1623 DCP 1203). The tank is protected by double enamell ιinternally and single enamell externally for maximum protection against corossion and electrolysis. The enamelling procedure is made according to DIN 4753/T3. The boiler can be made of inox or copper.

Perimetric exchanger (closed-circuit jacket) of 1,5mm steel (DIN 1623 DCP 1203).

350mm polyurethane insulation of high density.

External casing made of 0.5mm stainless steel.

Electric resistance 1,5-4Kw /220V with thermostat and thermal security valve.

At the side of the main tank there is an opening of 140mm diameter which allows the easy cleaning of the inside of the tank.

Magnesium rode for maximum protection against corossion.

Tube (of 1/2" diameter) for installing the security and the ventilation valve of the closed - circuit system.

Antifreeze - liquid filling tube of 1/2" diameter.

Inlet of cold water (3/4" diameter) with special cover which does not allow incoming water to be mixed with the existing hot water inside the tank.

Outlet of hot water ready to use (outlet diameter 3/4").

Inlet of the closed-circuit antifreeze mixture from the collectors (inlet diameter 3/4").

Outlet of the cold closed-circuit antifreeze mixture to the collectors (outlet diameter 3/4").
Central boilers of 130 - 300lt capacity , of dual or triple energy are also manufactured.
<< back