OPUS 3KW Instant Electric Water Heaters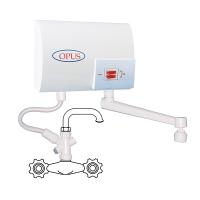 Description:
Instant water heater over the sink 3 KW
Overall dimensions 285 x 180 x 110 mm
Colour white
Description:
Domestic hot water is considered today as a basic human right worldwide. Heating domestic hot water via short routes increasingly gains in importance where energy costs and environmental responsibility are concerned. After all, oil and gas prices have recently increased substantially and electric power offers, not only an alternative, but also a cost-effective and environmentally friendly solution.
The high level of convenience, the extraordinary quality and high efficiency of our OPUS, AEG, and STIEBEL ELTRON instant electric water heaters together with their precise hydraulic or electronic control make them the best in the world. As soon as the hot water tap is turned-on, water is heated instantly as it flows through, automatically shutting-off as soon as the tap is turned-off.
All our instantaneous water heaters are very energy-efficient, offer a long service life and are extremely convenient. With powers ranging from 3 KW - 27 KW, they can supply all the hot water needed in the home for shower, bath, dishwasher, laundry purposes etc.
<< back