ARISTON 10L Electric Storage Water Heaters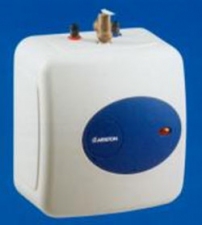 Description:
10lt storage capacity
Power 1.2 kw
Description:
Wherever larger volumes of hot water are required, wall or floor mounted electric water heaters provide a reliable and economic solution. With capacities ranging from 5 to 500 litres, highly-efficient thermal insulation and reliable technology, they constantly ensure the desired volume of hot water to satisfy all domestic needs.
Small and compact 5 - 30 litre water heaters can fit in very small spaces and are ideal for installations under sinks, wash basins or other remote / independent locations away from the main hot water lines. Larger water heaters from 50 -200 litres can be installed in the bolier room or attic in order to provide a central hot water supply for the whole house. Electric water heaters in the range of 300 - 500 litres can be used to satisfy larger commercial or industrial needs.
Some of the standard features of our electric water heaters are:
Copper - Stainless Steel - Titanium - Glass Lined Hot Water Tanks
Temperature/Pressure relief valve included
All Models include a Mounting Bracket
Mounts almost anywhere - Saves installation costs
High quality Heating Elements from 1 - 6 KW
Operate on 220 - 240 Volts
Adjustable Thermostatic Control
Approved by the relevant bodies of the European Union
<< back